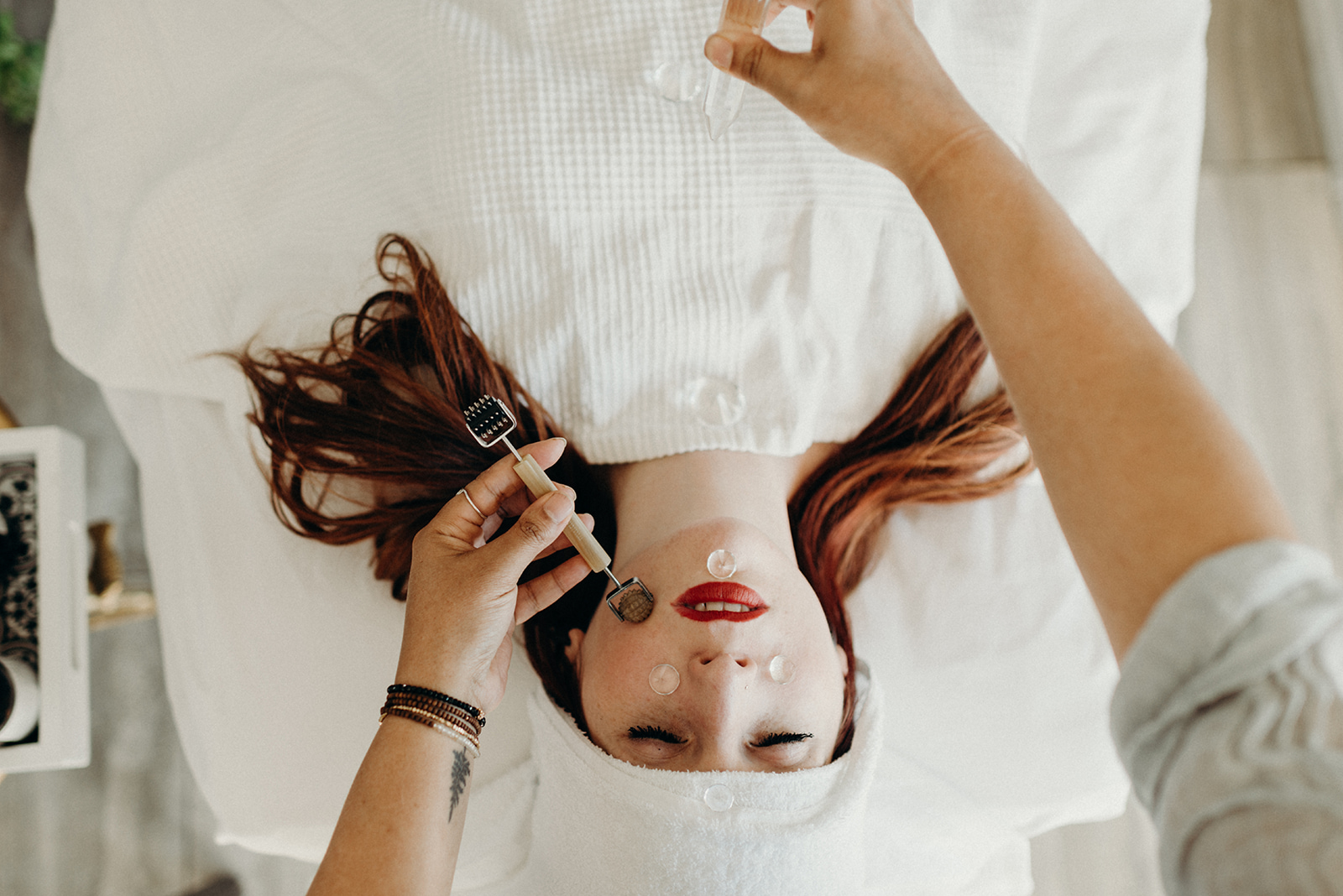 COSMIC FACIAL $125
OUR MOST POPULAR TREATMENT! A FACIAL USING ORGANIC BOTANICALS, WITH CHAKRA BALANCING AND ENERGY CLEARING.
after many years spent as a beauty industry professional, and years of training as an herbalist + aromatherapist + natural healer, the cosmic facial was born. Im honoured to be teaching our staff this service, so they are able to provide you with the most nurturing beauty service you have ever had. We engage the face using crystals ( specially cut crystals from India) , facial massage and reflexology,with Pranic Forests own line of non toxic, effective botanical / herbal skin care including masks, exfolliants, serums and oils.
Stimulating deep layers of the consciousness and skin, activating your own bodies healing abilities. We are trained to incorporate multi reflexology tools in our service, which naturally aid in collagen production by causing painless microcirculation to reveal a more youthful appearance.
​​YOU WILL EXPERIENCE THE HEALING SOUNDS OF CRYSTAL FREQUENCIES USING ALCHEMY BOWLS WHICH WILL LEAVE YOU FEELING GROUNDED YET WEIGHTLESS RENEWED AND CLEAR.
THIS IS A SUPERB TREATMENT THAT WILL LEAVE YOU REFRESHED, UNLIKE ANY FACIAL YOU HAVE EVER EXPERIENCED.
We will be working on your energy fields throughout your body, using various forms of energy medicine. To finish off this experience you will receive a grounding foot rub, to activate the lower chakras and ground down the new energy you have been infused with.

DUE TO THE RELAXING NATURE OF THIS TREATMENT CHILDREN ARE NOT PERMITTED.
EXPECT TREATMENT TO TAKE UP TO 90 MINUTES
Please try to arrive makeup free, but if this isn't possible you are welcome to remove it at the studio . Please be aware your skin may be slightly reddened for the remainder of the day following your treatment.
Naturally we will be using essential oils, please let its know prior to the service if you are pregnant, have allergies, seizures, or a heart condition.

AROMATHERAPY BLEND ADD ON $40.00OUR MOST POPULAR TREATMENT ! A FACIAL USING ORGANIC BOTANICALS, WITH CHAKRA BALANCING AND ENERGY CLEARING. UPGRADE THIS SERVICE WITH A PEARL MASK $10.00, let us know when you arrive for your treatment.


​
VIBRATIONAL VORTEX ATTUNEMENT $85
typically a one hour treatment to restore the life force energy of the body, also known as chi, qi, prana. The pranic forest staff are gifted , trained and proficient various healing modalities. this treatment is includes chakra clearing frequency healing using alchemy crystal bowls, neutralizing rings, and sun rings. You only need to come and lay down in one of our cozy treatment rooms, and prepare to be deeply relaxed. This treatment also finishes with a mindful foot rub,
DUE TO THE RELAXING NATURE OF THIS TREATMENT CHILDREN ARE NOT PERMITTED.
EXPECT TREATMENT TO TAKE UP TO 60 MINUTES
PLEASE OBSERVE , THAT ALTHOUGH ENERGY HEALING IS VERY POWERFUL, IT IS NOT A REPLACEMENT FOR MEDICAL TREATMENT, AND PRACTITIONERS DO NOT DIAGNOSE CONDITIONS.
AROMATHERAPY BLEND ADD ON $40.00​


CUSTOM AROMATHERAPY FORMULATION​ $65
visit the studio for a therapeutic aromatherapy formulation.
lets Formulate your own botanical based 10ml aromatherapy bottle! Duration of 50 minutes, this formulation will benefit you on many levels of being, essential oils are powerful allies. It makes for such a beautiful session. Please notify us if you are pregnant, nursing, or have any allergies, or serious health conditions.
CUSTOM FACIAL OIL FORMULATION $80
Your appointment includes sitting down with us, while we take a look at your facial needs, teach you about which oils we will be using in your formula and why they will benefit you. We will be crafting this custom oil using cruelty free plant based ingredients.You will leave empowered with your custom one ounce bottle of precious oil goodness, that you played a role in crafting! This appointment runs 60 minutes $80, with a refill for $55
As we will also be using essential oils please notify us if you are pregnant or nursing, highly sensitive, have any allergies, suffer from seizures, or a heart condition. THIS IS A SUPER FUN SESSION, CAN BE ARRANGED AS A SMALL GROUP of 5 AS WELL ( CONTACT US FOR GROUP SESSIONS)


THE ASCENSION PACKAGE $200
This package includes the cosmic facial as well as a 30 ml custom facial oil formulation. Please allow just over 2 hours for this service.

HERBAL MEDICINE APPOINTMENT $80
An herbal medicine appointment to discuss your healing path for wellness with M.H Amanda Spicer. An opportunity for you to share your voice and health concerns with me, and have me assist you back to health with the amazing power of herbs and oils.
I am a master herbalist and aromatherapist. this appointment may include asking you to have allergy testing done at another local clinic. This is a 40 - 60 minute appointment.
COMPLIMENTARY MINI FACIAL WITH SOUND BOWLS $FREE
You are invited to get to know our services and practitioners through this complimentary experience.
If you have been gifted a 20 minute session card and wish to redeem it, please call our shop to book
587.392.1770

To book a service with one of our amazing team please scroll up to the book now button